The Cuisine in Cyprus is a flavourful and variated blending of all the traditional dishes of the many cultures surrounding this intriguing island - When you book your holiday villa or rent your holiday accomodation from Break in Cyprus you will discover a mix of Lebanese food, Greek food, Turkish food, and Italian food with an undeniable character that makes it recognisably Cypriot. Some say that ' Cyprus is the island of perfection where the food is ambrosia and the wine is nectar'. Whoever said that civilised living started at the dinner table and that variation was the richness of life definitely had Cyprus at the front of their mind. In the ancient world people said Cyprus had invented "the art of good living", and as a result the island's name was forever after related with luxurious experiences to both the gods and human beings. In Cyprus a meal is an event to celebrate living life, and if humans are what they consume, then Cyprus is an energetic, naturally fresh and very healthy population. Whilst living in your new holiday home or villa or while visiting Cyprus you will soon realise the importance of food within the daily lifestyle of the inhabitants of this island, and it will not be very long at all before you yourself are captured by the excitement and enjoyable experience of eating the.food and drinking the wines and juices so synonymous with living and loving, just as people did in times gone by in the ages of Aphrodite and Othello.

Life seems to happen around food and drink, and mealtimes are never a minor event ! Mealtimes are always a time for celebration - a worthy moment to gather friends and family on a regular daily basis - to chill out, have fun, and exchange views on the events of the day. The numerous food establishments on the island of Cyprus are usually well attended by family and diners, of all ages, in Aya Napa, limassol, Famagusta and paphos, easing away the hours, holding a glass of ouzo and devouring great chunks of barbecued meat or wonderfully fresh seafood caught from the waters around this mesmerising Mediterranean island. Even normal working times are conveniently arranged for the inhabitants to take a few hours off business during the midday heat to gather in their groups to dine before taking their regular daily siesta in their villa.
The delicate and tasty cuisine, which is cooked using the excellent local produce, appeals to all tastes. There is no shortage of choice for the vegetarians among you too, who will no doubt be more than happy to discover that Cypriots regard vegetables as valuable meals within themselves and not just as plain side dishes. The water that flows from the taps is reasonable and the supermarket isles in Cyprus towns and cities such as Ayia Napa are considered to be amongst the cheapest across Europe .
To enable you to fully understand and gain a reliable introduction to the pleasurable experience of Cypriot food, we, at Break in Cyprus, have prepared a short list of a few of the tasty dishes you may be tempted to try when staying at one of our apartments, holiday accomodations or self catering villas in Cyprus.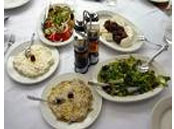 Mezedes:
A fantastic introduction to get into Cypriot food, certainly if you do not manage to find a host locally to assist you in deciding on your dishes. Set off to one of the many tavernas and order yourself a Mezedes. Mezedes delivers a broad variation of many traditional dishes, and effectively stops you having to make any decisions of what to order, for a very reasonable set price. Be warned though, this eating experience will deliver an immense and varied amount of courses, A forceful attack on your ability to consume at length!. You will receive smallish dishes of just about everything imaginable; olives, dips, vegetables, cheeses, fish, beans, seafood's, sausages, meats, casserole dishes, fruit and salads. It would be advisable to nurture a large appetite and allow a good amount of time for this wonderful experience. Just sit back and be amazed by the procession of dishes that never seem to stop arriving!.
The list dishes are typically the kind of dishes you can expect to receive at your table when ordering yourself a mezedes. These dishes can l be ordered individually if the larger event of Mezedes isn't appealing.
o Olives
o A variation of traditional breads.
o Many cheeses like kaskavalli, feta or halloumi,

o Huge prawns
o artichokes cooked in slices
o Kapari (caper stalks)
o Lountza (traditionally smoked ham)
o Sheftalia (home-made sausage
o Tzatziki (yoghurt, cucumber, and garlic dip)
o Houmous (ground chick peas, with olive oil and garlic)
o Taramasalata (fish roe dip)
o Souvla/ souvlakia (small or large chunks of marinated lamb or pork on the spit
o Calamari ( battered/fried squid rings)
o Loukanika (sausage smoked)
o Fresh fish, such as barbouni (red mullet) and tsipoura (sea bream)
o Koupepia (stuffed vine leaves))
o Village salad
o seasonal fruit (figs, grapes, watermelon, pomegranates, prickly pears,)
o Succulent char-grilled olive oil and lemon infused chicken
o Ripe tomatoes
o Octopus
Other Traditionally cooked Cypriot Dishes on offer include:

o Moussaka - a hearty dish made from minced lamb or beef and herbs covered with layers of sliced potatoes, aubergine and courgette and sometimes topped with a béchamel sauce.
o Kleftiko -lamb with herbs slowly roasted at low temperature in a clay oven until the meat falls from the bone to melt nicely in your mouth.
o Keftedes - fried pork spiced, and/ or beefy meatballs
o Stifado - A stew of the winter created with beef and onion.o Pastitsio - a rich bake of meat, macaroni and béchamel sauce - similar to lasagne.
o Tavas - a veal, onion and cumin infused dish served in little earthenware bowls straight from the oven.
o Afelia - cubes of pork soaked in wine, sautéed with oil, coriander and wine.
o Avgolemono - Wonderfully tasty and very easing chicken, lemon and egg soup
o Galatoboureko - custard filo pie
o Louvi me lahana -black-eyed bean and Swiss chard stew
o Potatoes any way - Cyprus grows some of the finest potatoes of the world.
o Fasolia - white bean stew
o Baklava - nut-filled filo pastry soaked in a wonderful spicey syrup
o Kataifi -shredded pastries that are nut-filled
o Kourabiedes - snow white sweetened biscuits
o Melomakarona - honey biscuits
o Loukoumades - deep-fried pastry fritters soaked in honey syrup
Some important advice - especially if you decide on a Mezedes! The rule of thumb is to only consume a little bit of each dish or you may discover that midway through your dinner it is impossible to go on! You don't want to miss out on all the unmissable foods to follow!
Drinking in Cyprus :
Wine - Wines in Cyprus can be traced all the way back to the times of Ancient Greece, The Roman and Egyptians enjoyed them in an abundance, and has been an important element of Cypriot living since these times. During recent Archeological excavations at Paphos, ancient coins displaying a vine on one side of the coins were found, demonstrating the fact that wines were a major source of wealth on the island during that era. The main lands where grapes are grown can be found on the southern slopes of the Troodos mountains, higher up where the sun is constant and hot. Vineyards can be found all around this area. Be sure to go and sample the local wine on the mountains, around the villages, the monasteries and many of the small wineries. Discover all the classically produced grapes of Cyprus - Opthalmo, Xinisteri, Mavro and Muscat . These grapes create rich, invigorating strong wines. These days, following a deliberate widening of the ranges of wines, you can now also find European grapes like Grenache and Palomino, Cabernet Franc, Cabernet Sauvignon. These grapes produce a slightly more delicate, fruity and mellow wine.
Commandaria:
Commandaria is known to be the oldest wine on the planet and probably the first wine to ever be designated an 'Appellation of Origin'. Legend states that commandaria was first made for Richard the Lionheart and the Crusaders. This excellent desert wine, has been created using the exact same process for thousands of years. The grapes get plucked off the vine late, They are then allowed to dry under the sun to enhance the sugar content and then they are pressed. The juice that exits is collected and fermented great earthenware jarsor in in tanks.
Ouzo -The perfect aperitif, or even as the perfect accompaniment to mezedes, ouzo is an aromatic white spirit made from aniseed. You may wish to take it neat, in a cocktail or with water.
Zivania - Are you feeling brave! this white spirit drink can pack an alcohol content of anywhere between 40% to 99%. It is traditionally drunk when taking Mezedes, in a laid back manner, gently sipping away, chatting and eating.
Airani - a refreshing drink made from live yoghurt and salt, wonderful on hot summer days. You will discover airani being offered by street vendors, and is believed to have been invented as a means of replenishing the body with salt lost through sweating.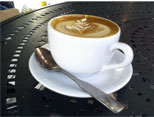 Cyprus Coffee
The coffee in Cyprus is notably different to the normal kinds of coffee you would be used to drinking across the rest of Europe . It is delivered black and short, together with a glass of water. You will need to ask for sugar when you order your coffee because the coffee is unfiltered; nothing should normally be added into it and stirred once it is served, as this would disturb the coffee remnants at the bottom of the cup. One usual and common sight in Cyprus is one of older men sitting outside of their local kafeneio (coffee shop) taking coffee and playing a game of tavli (backgammon). This would be the best place to experience your Cyprus coffee.
 Cypriot cuisine is the food of the Cypriot population who reside on the island of Cyprus located within the north-eastern part of the Mediterranean Sea .

Cypriot food features many similarities with Greek and Turkish dishes but it does have its own distinct character. Having unique positioning at the central crossing of Europe, the Middle East and Africa , this cuisine has taken on exotic dimensions that render it unusually varied and very delicious. Featuring fresh ingredients found locally, regional herbs and spices, and the subtle usage of natural olive oil, the Cypriot palate is essentially very Mediterranean in character. Amongst the dishes you can expect to find are: Loukanika, coriander seasoned sausages, soaked in a red wine and then smoked; Dolma / Koupepia, grape leaves stuffed with minced meat and rice; Lountza, smoked pork, usually served in a sandwich with halloumi, a wonderful soft Cypriot cheese, (usually prepared under the grill) made from sheep fed on thyme and sometimes spiced up with a touch of peppermint; sheftalia, a grilled pork sausage, afelia, pork marinated carefully in wine and coriander; stiphado, beef or rabbit stew prepared as a casserole with wine vinegar, onions and spices; and ofto kleftiko, pieces of lamb cooked in a clay oven and seasoned with fresh bay leaves.
If freshness (see markets, below) is the key to good cooking in Cyprus , meze is definitely the other. Mez is an abbreviation of mezedes, or "little delicacies", meze can consist of as many as 30 small plates of food, ranging from savory dips and vegetables to a broad offering of fish and meat dishes. Much more than hors d'euvres, the meze often becomes the heart of a meal itself. In some tavernas and restaurants you can order seafood meze or a meat meze.
Seafood dishes will include octopus in red wine, calamari, sea bass and barbun (red mullet),. Vegetables commonly prepared are asparagus, pickled cauliflower and beets, kolokas (a unique Cypriot product a bit like horse-radish), zucchini, a sweet potato-like root vegetable) and potatoes in olive oil and parsley.
Commonly used ingredients are vegetables like green peppers, courgettes, green beans, tomatoes, artichokes, carrots, okra, cucumbers, lettuce and grape leaves, and pulses such peas,as beans, black-eyed beans, broad beans, chick-peas and lentils.
Pears, oranges, mandarines, apples, grapes, citrus,nectarines, black berries, cherry, mespila, strawberries, avocado, walnut, figs, watermelon, melon, lemon, almond, pistachio, chestnut, hazelnut are some of the most common fruits and nuts. Some of the more well-known herbs and spices are: roka, pepper, parsley mint,, celery, thyme, oregano and many others.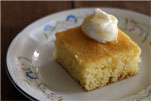 Cypriot desserts more often than not will consist of freshly picked fruit, served individually or together with a range of sweet pastries or fruit preserved in a delicious syrup. These include Lokma (or loukoumades), daktyla, walnuts and cinnamon, ladyfingers with almonds, and shammali, Cyprus doughnuts with honey syrup also orange semolina cakes cut neatly into squares. In cafes, you will find favourite snacks such as kolokoti, a triangle of pastry stuffed full of red pumpkin, cracked wheat with raisins, pastellaki, sesame, peanut and honey syrup bars. There is also galatopoureko, a phyllo pastry stuffed with cream. A traditional sweet treat is Lokum, Turkish delights flavoured with rose water and dusted with powdered sugar.

  Sweets of the Spoon
Sweets "of the Spoon" is a traditional Greek homemade fruit sweet called spoon sweets, fruits are stewed down with sugar to a required consistency and made available in a big range of flavours. There could quite easily be as many spoon sweets as there are fruits. These are popular in both Greece and Cyprus , and are often served with Greek coffee and a glass of cold water. They are also used as ice cream toppings, mixed with yogurt and even spread as jam on toast for breakfast. Cyprus hallumiHalloumi, Turkish: Hellim, is a cheese unique to Cyprus . It is made from a blend of sheep and goats's milk, although some halloumi can contain cows' milk.
industrial halloumi contains more of cows' milk than goat and sheep. This makes it cheaper to buy but does change the taste and does not grill in the same way at all.
This cheese is white, with an undeniable layered type texture, similar to mozzarella, and has a distinct salty flavour to it. It is stored in its natural juices with salt-water, and can stay edible for up to a whole year if deep frozen at -18 °C (0 °F) and defrosted to +4 °C (39 °F). It is commonly garnished with a touch of mint. The mint is said to add a taste while many say that it provides a natural anti-bacterial element that was helpful in increasing the extended life of the cheese.
Often used in cooking, this cheese can be fried until brown without it melting because of its higher-than-normal temperature melting point, making it the perfect cheese for grilling or frying (such as in saganakia), as an ingredient with salads, or just fried and served up with as few vegetables. The reason it doesn't melt comes from the fresh curd being heated before being shaped and put into brine. Traditional halloumi is a semi-circular shape, roughly the size of a large wallet, weighing 220-270g. The fatty content is approximately 25% wet weight, 47% dry weight and about 17% protein. This cheeses firmish texture causes it to squeak on the teeth when cooked and being consumed.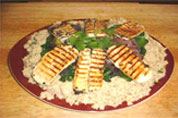 Cypriots like to eat halloumi with a thick slice of watermelon in the warmer months. No Cypriot meze menu would be totally completed without halloumi and lounza. This dish is a combined serving of halloumi cheese and either a slice of smoked pork, or a soft lamb sausage (opinion does differ on which is the true lounza) layered simply one on top of the other and then grilled. Halloumi is also commonly used in a bacon sandwich, but can also make a very satisfying dish on its own or also with a salad. cyprus sheftalia is a traditionally Greek Cypriot food. It is a kind of crépinette, a sausage without skin, that has in it caul fat, or omentum, the membrane that surrounds the stomach of pig or lamb, to encase the ingredients rather than sausage casing. Caul fat is transparent and naturally fatty, giving sheftalia a delicious flavour when it is grilled. The filling is created from ground pork or a lamb shoulder or leg, fresh parsley, onion, and salt and pepper. The ground meat is mixed thoroughly with the chopped onions, parsley, salt, and pepper and then is formed into small round ball type shapes. The balls are then placed on top of the spreaded caul fat and then squares of caul fat are cut around them. The caul fat squares are then shaped into small sausages and then put through a couple of skewers. Sheftalia are then grilled usually on charcoal until they are golden brown, for around 20 or 30 mins. They can be savoured with a fine Cyprus dry red wine. In Cyprus it is very usual to find kebab or souvlaki restaurants that will also offer you sheftalia in pita bread. it is actually so common that almost every neighbourhood has at least one souvlitzidiko (kebab restaurant in Greek.)
cyprus soutzoukos is a favourite traditional Cypriot sweet. The main ingredients in soutzoukos are almonds, grape must, or in some cases flour and walnuts.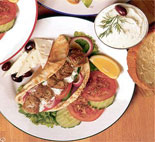 Cyprus Souvlaki
Souvlaki is a favourite fast food in Greece prepared as small pieces of meat and sometimes vegetables on a skewer. It could be served on the skewer for eating out of the hand, in a pita sandwich with condiments, or on a dinner plate, sometimes with pilaf. In Greece the meat is traditionally pork, but in modern times has increasingly become chicken. In other countries (and for tourists,) souvlaki can be made with alternative meats like lamb and occasionally fish (especially swordfish). Turkish Delight, or lokum (also loukoum), is a sweet made from sugar and starch. It is usually flavored with rosewater or lemon, the former donating it its characteristic pale pink colour. It has a very soft, sticky type of consistency, and is commonly packaged and eaten in small cubes that are dusted with sugar to stop sticking to the hands. Some recipes include small nut pieces, often hazelnut, pistachioor walnuts.

Although enjoyed worldwide, lokum is very familiar in Armenian, Turkish, Balkan, Iranian, Greek, and Middle Eastern cuisines.
In the USA , lokum is not realy very common at all, although there are many exceptions. One large manufacturer of Lokum in the North-western area of the U.S. is a company called Liberty Orchards, started by Armenian immigrants. This company markets its sweet under the name "Aplets & Cotlets" and "Fruit Delights". It is also the main body of the Big Turk and Fry's Turkish Delight chocolate bars.